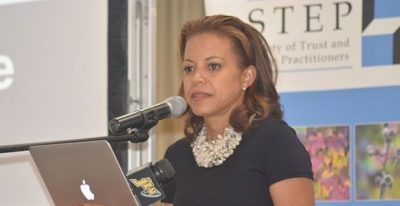 Nov 24, 2016 – TORTOLA – British Virgin Islands-based law firm O'Neal Webster congratulates Partner Vanessa King as the recipient of the Society of Trust and Estate Practitioners' ninth annual, prestigious Founder's Award. The Award is presented to an individual or individuals who have made an exceptional and outstanding long term contribution to the Society, also known as STEP, above and beyond that normally expected of a member through office in his or her branch or elsewhere in the voluntary life of the Society. King is acknowledged for her "Outstanding Achievement," contributing to the global organization's presence and educational programs in the Caribbean and Latin America region.
"Recognizing the efforts of the Society's exceptional volunteers is both important and appropriate," says Michael Cadesky, this year's chair of the Founder's Awards Panel.
As current Chair of STEP BVI, King was instrumental in bringing the first STEP trust and estate educational conference to Tortola, a program that offers a full day of advanced education to all industry professionals. She is a member of the STEP Caribbean Conference steering committee, which last year expanded to include the Latin America region. In addition, Vanessa is a member of the Society's Caribbean and Latin America Regional Committee and she served on the regional policy sub-committee, whose efforts ultimately resulted in the dilution of the EU's proposals to introduce compulsory trust registers in Europe. Vanessa also chairs the Trust and Succession Law Review Committee of STEP BVI the work of which led to the highly acclaimed 2013 amendments to the BVI's VISTA trust legislation, its Trustee Act and its very popular PTC Regulations and which is working on further BVI trust and estate law reforms.
Ms. King is appointed to a number of Government committees, and served as interim director of BVI Finance. She is currently a member of the BVI Financial Services Institute Advisory Council and the Financial Services Business Development Committee of the Premier's Office. Other volunteer work includes the BVI Red Cross Executive Committee and past Secretary of the BVI Bar Association.
"Vanessa's dedication to the practice of law, our clients, the profession at large, and the greater Caribbean community is truly exceptional," says O'Neal Webster Managing Partner Kerry Anderson. "This recognition is well deserved. We deeply appreciate her contribution."
O'Neal Webster Partner and Head of BVI Trusts, Chris McKenzie, who himself was a previous recipient of the Award and was the founding chair of the BVI Branch of the Society, commented that he was "delighted that Vanessa has won the Award" and that this was "reflective of the very high professional and personal esteem in which Vanessa is held by everyone who is fortunate enough to cross her path."
About Vanessa King
Partner and Head of O'Neal Webster's Commercial Department, Vanessa King's legal practice is focused principally on trusts, banking and finance, and corporate and commercial law. Her client base covers the major financial centres of the world and includes leading and domestic international financial institutions, as well as law firms and trust companies. She advises on establishing and issues arising from all forms of BVI trusts, various forms of corporate finance, including bilateral and syndicated loans, project finance, property finance, joint ventures, corporate restructuring, and general aspects of banking and corporate law. She is qualified to practise in the BVI and Jamaica.
Ms. King earned a B.A. (Hons) from the University of the West Indies, an LL.B (Hons) from the University of the West Indies, and her Certificate of Legal Education from Norman Manley Law School in Jamaica. She is recognized for her expertise and attention to client service by many prestigious legal ranking bodies, including The Legal500, Chambers and Partners, and CityWealth IFC.
About O'Neal Webster
O'Neal Webster serves local and offshore corporate, finance, banking, business, real estate, and trust and estate clients, and is well known for its expert handling of transactional, regulatory, and adversarial matters in dispute resolution and litigation. Learn more at onealwebster.com.
 About STEP
STEP is the worldwide professional association for those advising families across generations. Its mission is to promote best practice, professional integrity, and education to members, helping families plan for their futures: from drafting a will or advising family businesses, to helping international families and protecting vulnerable family members. The organization has over 20,000 members across 95 countries, which includes lawyers, accountants, and other trust and estate specialists.
###
See also: Local Lawyer Given International Award for Outstanding Achievement Virgin Island News Online