O'Neal Webster is delighted to announce that leading corporate counsel Mr. Christopher Simpson has joined the firm's partnership. Christopher joined O'Neal Webster in 2010 and his practice focuses primarily on corporate and commercial, banking and finance, and investment funds.  He also advises on investment business and regulatory matters.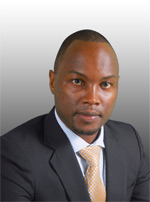 Managing Partner, Mr. Kerry Anderson said, "We are pleased to have Chris join the partnership at this stage as we continue to enhance our corporate practice.  Chris is an excellent lawyer and we have no doubt that in his new capacity Chris will continue to provide the high level of service to which his clients have grown accustomed."
Over the course of his career, Christopher has been involved in numerous IPOs, including on AIM, TSX, NASDAQ, SGX and the LSE. He has also been involved in ground breaking deals including one of the first ever court approved corporate arrangement schemes in the BVI and one of the largest single asset real estate financings in China. Most recently, Christopher was involved in the US$1 billion acquisition by The Bank of Nova Scotia of a stake in Banco Colpatria, and the acquisition of GenturaDx by NASDAQ listed Luminex Corporation. Prior to joining O'Neal Webster, Christopher practised at Harney Westwood & Riegels in both their BVI and Hong Kong offices.
Christopher is a graduate of the University of the West Indies and the Norman Manley Law School. He is also a graduate of the University of London where he obtained a LLM in International Business Law. He was awarded BVI Banking Lawyer of the Year in 2013 by Lawyer Monthly and is recommended by Legal 500. Christopher is a past treasurer of the BVI Bar Association and is a Notary Public. His articles have appeared in various publications including BVI Finance, Global Capital Markets, China Business Law Journal, Financier Worldwide Magazine, Mondaq, Lexology and Legal 500.