Feb. 15, 2018 – Tortola, British Virgin Islands – On a cool, rain-soaked Sunday morning dawn in late January, O'Neal Webster's Managing Partner Vanessa King stepped to the starting line alongside the British Virgin Islands team "54Strong" and 23,000 other runners who had gathered in Miami to compete in the city's annual signature event, the Miami Marathon and Half-Marathon race. King and her teammates were running to raise much-needed funds for local BVI charities following the devastation left behind by hurricanes Irma and Maria. In keeping with the spirit of the run, O'Neal Webster donated '#BVI strong' wristbands to each member of the 54Strong team. The wristbands were sold by the Rotary Club of Tortola to raise funds for their recovery efforts.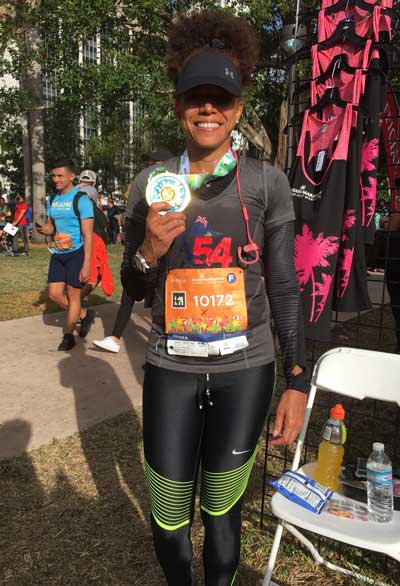 When King crossed the half-marathon finish line, she had doubled her initial fundraising target for her charity of choice, Adopt A Roof BVI, raising over $8,000 in donations from friends, colleagues, and clients—on-island, in the region, in the U.S., and as far away as Hong Kong. King said she chose Adopt A Roof BVI as her charity because its work went beyond simply rebuilding roofs—the charity's acts restored a sense of security and dignity to those who had lost much in the hurricanes.
Preparation for the Marathon proved challenging. But King said running, difficult as it was, became her therapy, despite exhausting days of cleanup, a curfew, swarms of insects, and navigating road obstacles, such as potholes, debris, fallen trees, and power poles. In mid-January, she said, she was finally able to do a 10-mile run on the main road.
"Normally I'd be doing long runs every week for months to prepare, so I may have to walk or crawl to the finish in Miami," King told Miami Herald sports reporter Linda Robertson, who interviewed several members of the BVI team prior to the race.
King stayed on Tortola during and after the vicious hurricanes. She told Robertson it looked like "a giant had walked across the island and mashed everything." She recalled one particular morning while running on the side of the road that was not a mess and that had a view, "I realized that the sunrise was still spectacular and the color of the sea still took my breath away. The sun was my cheerleader as I stopped and said, 'Yeah. We still have it.'"
O'Neal Webster congratulates all the runners of 54Strong and thanks them for their heartfelt efforts to raise up much-needed funds to rebuild our island home.
About Team 54Strong
Team 54Strong was conceived by Martin Cooke and Melisa Johnson who were inspired to create a team of 54 runners—one for each of the 54 BVI islands—to participate in the Miami Marathon or Half Marathon and raise funds to support hurricane recovery. 54 runners. 54 Islands. One cause. #54Strong. Learn more at 54strong.org.
About Adopt A Roof BVI
Following the destruction caused by category 5 hurricanes Irma and Maria, Regis Bourdon, chef, and owner of Brandywine Estate Restaurant, which was badly damaged, was overwhelmed by the plight of the people of the BVI. Ignoring his own challenges, he set about using what was left of his kitchen to start 'Direct Action' relief work and make Meals for Kids in the ravaged East End community. This humanitarian act had an unforeseen consequence. Spending time in that area, Bourdon became acutely aware of the destruction of the homes of vulnerable people with little money and no insurance. After helping a woman find tarps for her home, he had yet another inspiration: "Let's start putting roofs on homes!" His idea was to identify needy homes and ask donors to sponsor or 'adopt' individual roofs. Adopt A Roof BVI was born. To donate, visit: adoptaroofbvi.com
About O'Neal Webster
O'Neal Webster holds a decidedly unique position among all British Virgin Islands law firms, being among the first to establish exclusively in the BVI. The firm serves local and international clientele in areas of corporate, finance, banking, business, investment funds, property, admiralty, and trusts and estates. It is highly regarded by international ranking bodies and peers for its expert handling of transactional, regulatory, and contentious litigation matters. The firm also staffs an office in London, UK.